COMING PUPPIES
If you are interested of a puppy from STARAX breeder you can do a interested report in email or
call us.
When you buy a puppy from Starax The puppy is:
*register in Swedish Kennelclub*Insured against hidden faults for the first 3 years*Inspected*Microchipped*Vaccinated*Dewormed*
With the puppy comes:
*Photo & Movies from the puppies time at Starax*Blanket with the smell from mom & sisters*Information*Toy*
Of course we will learn you how to race with your dog when its old enough. We also learn you some simple obedience & agility if you want.
Puppies born 090713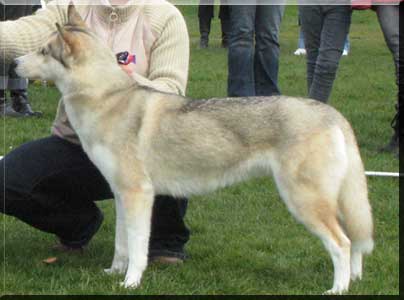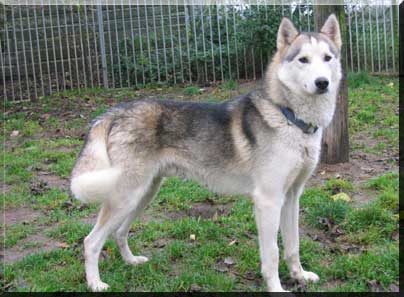 STARax Afrodite & A´tebs Winner Xtra Of Wolf.

7 WEEKS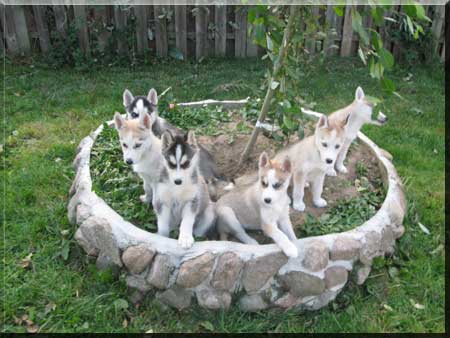 5 WEEKS 6 WEEKS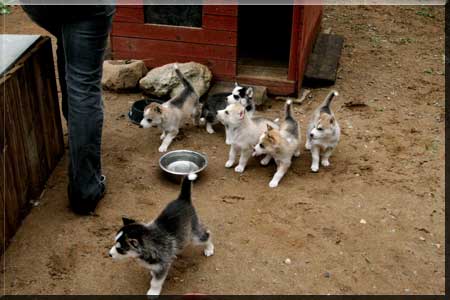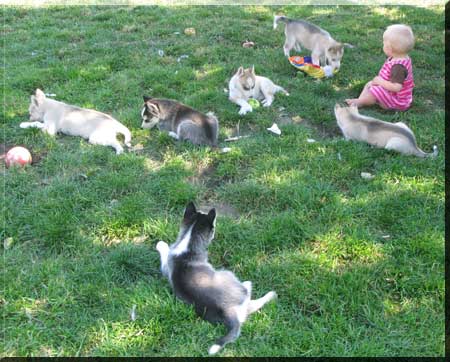 3 WEEKS 4 WEEKS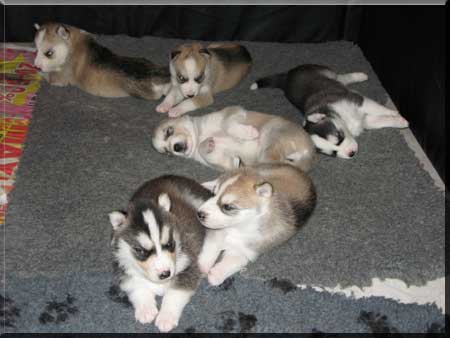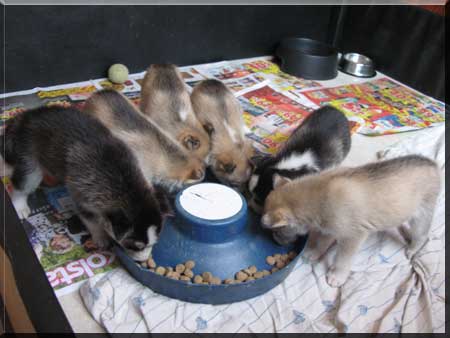 1 WEEKS 2 WEEKS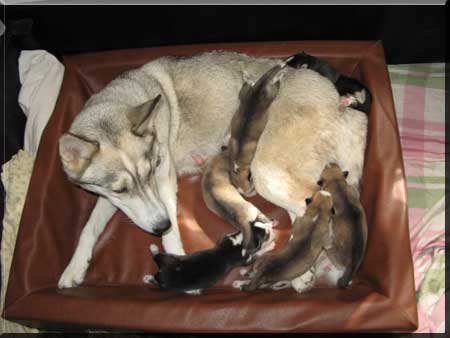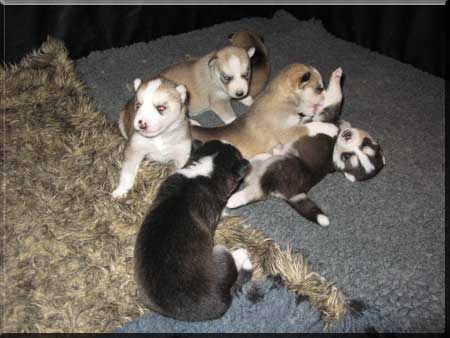 Starax Afrodite. Dite is a lovely girl. She loves to work in team and works good in lead, but even back.
Dite is showed with god results, she got 2 CERTIFICATE,2 BOB, 1 Reserv-CACIB. One BOB breed in DENMARKS Siberian Husky Clubs show.
She is compete in sprint with good results.
Dite have compete on 4 diferents sledrace seasons07/08 ,3different 2 team race there she also compete in Polar World Champion,
one 4-team class there we placed as 7 place of 14 competions.
Dite is eyechecked 3 years through without complaint. Gonioskopi is done well.

Weigh: 20 Kg
A'Tebs Winner Xtra of Wolf, Winneris born 2003.10.25 is son of DKCH & workchampion Nay-la-Chee's Cool'n Rude Wolf &
A'Tebs Emily, lives on A´Tebs Kennel in Denmark.
The nem was chossed before 3 weeks age.
There was 8 puppies in the litter & 6 is participant in race..It have showed that the names was correct,he is a important craft in the 8-team
by Kennel A'Tebs, but his results on shows is also important.
In FISTC's EM race in november 2007 participant he in A'Tebs 8-team there they won bronze, and on the show after saturdays stage,
he got his first Cartificate by judge Anna Törnlöv.
The 11.october 2008 he got his second Certificate by judge Freddie Klindrup.

Winner is father of 2 litters: one on 5 puppies in England on kennel Skimarque, they all on a age on1 ½ years old was show entitle to CRUFTS.
One of this was presents on CRUFTS 2008 and become BOB of 245 presents Siberians.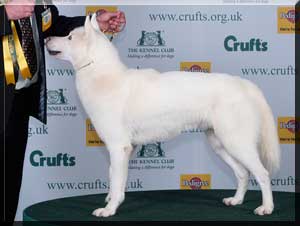 The secund litter was on 5 puppies, and this generation Winner very mutch.

On team have Winner been on succe with 8 team sence december 2005, and his father Wolf was in the A´Tebs team aswell,
there they won silver on Swedick Champion in Drevdagen in feb. 2005, and gold in district championship in 4-team in januari 2005.
Winner is eyechecked 3 years through without complaint. and hip checked with good results A-A.

Temperament: God and compliance.
High: 59 cm
Weight: 23 kg.
Movi on Winner hear.

Photo Winner Photo Dite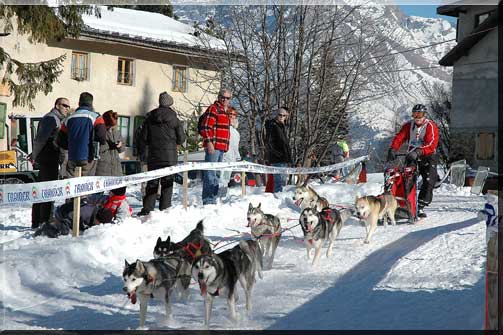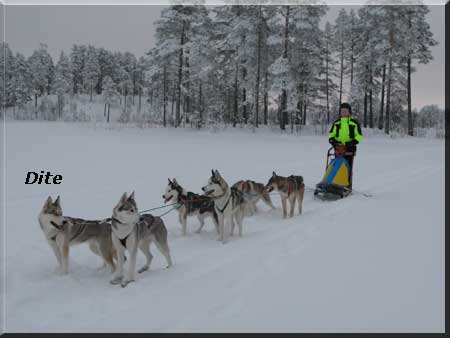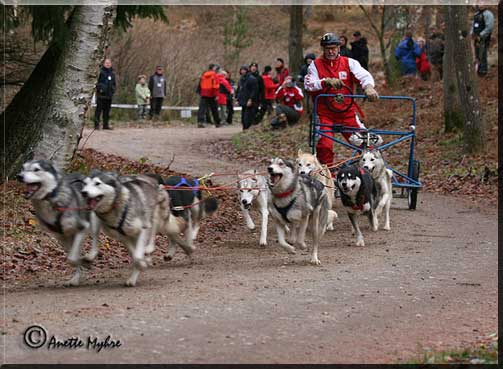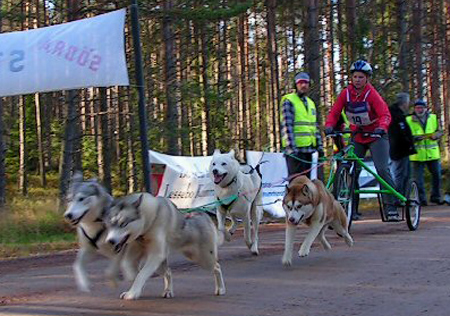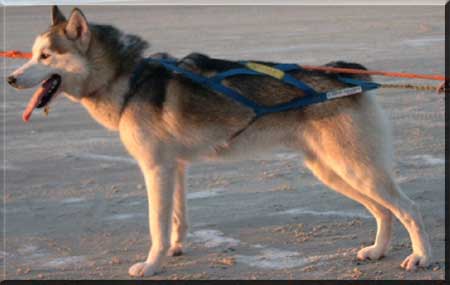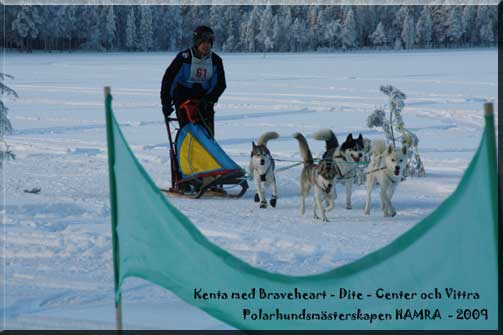 Puppies Breed
A´tebs Winner Xtra Of Wolf
-2 CERT

Hälsa:
-Ögonlyst ua
-Höfter UA

DKCH DKLÖBSCH

Nay-La-Chee´s Cool´n Rude Wolf

H:A


Northomes Rude-E At Axias

H:A

Northomes Tough Guy


Kodiak´s Jewel Second


NOCH
Nay-La-Chee´s Cool Running Kenoia



Unisak´s Jet Bandit
Avatac´s Brave Ulveline

A´tebs Emily



H:A

DKCH

Micky Av Vargevass-A

H:A



Scotty Av Vargevass´s
Samba Av Vargevass-A
A´tebs Isabella
H:A
Yokon Khiva
A´tebs Chu-Chu-Ann


Starax Afrodite
- ledarhund
- 2 CERT,2 BIR & R-CACIB

Hälsa:
-ögonlyst ua 06 & 07
-Gonioskopi ua 07



Vindsnabbe's Coyote

Vindsnabbe's Karsten

Tordenn Av Seppalaska

Vindsnabbe's Frigga

Vindsnabbe's Mirage

Baugi

Skyfri Av Seppalaska

Vindsnabbe's Scad

Baugi

Skyfri Av Seppalaska

Skyfri Av Seppalaska

Ash Of Markovo

Kita Av Seppalaska


Noomi
Hälsa:
-ögonlyst ua 07



Gevonnes Zeus





Gevonnes Ymer

Jon Marias Vito

SUCH
Gevonnes Nova




Gevonnes U'lula

Kanalaskas Tok

NORDV-95
Gevonnes Pollux


Måsek's Sangis





Gevonnes Nimbus

Snöfjellet's Trail-Storm

SUCH
Gevonnes Fe'nja

Rambo